OvalJet – 240 Tech team spend the week with other print enthusiasts introducing the OvalJet high speed direct-to-garment (DTG) printer. The team was able to accomplish something that many thought was impossible – build an OvalJet in six days on a show floor.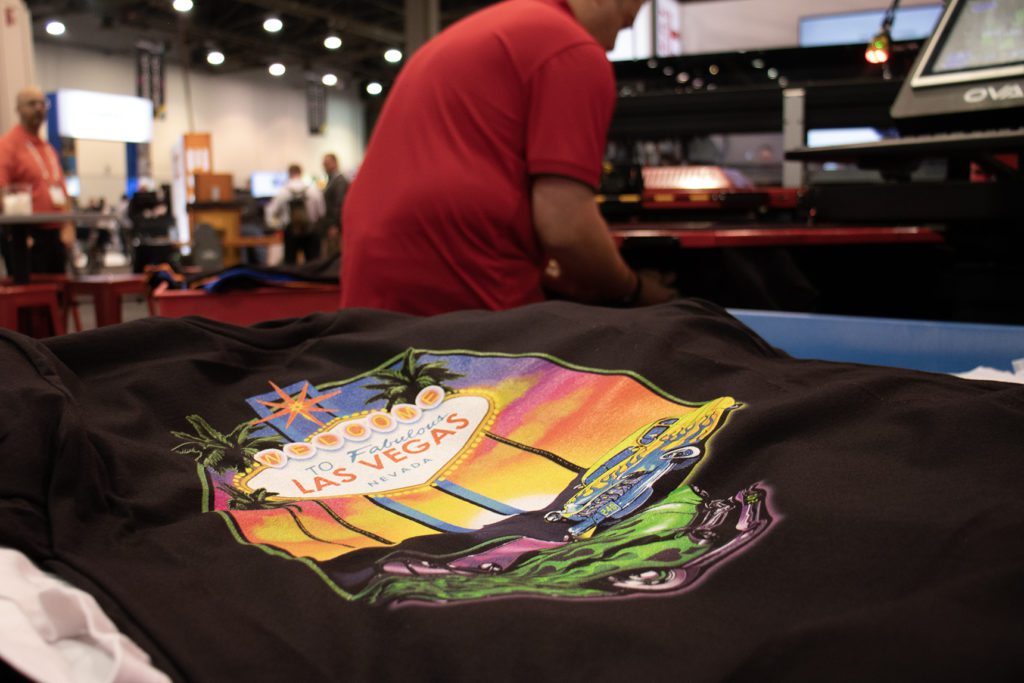 "Customers have told us, 'If there was a Best In Show award, OvalJet would have received it,'" said Tom Grinstead COO of 240 Tech. Over the three days of PRINTING United, there were 20 live demonstrations on the OvalJet. Each 15 minute demonstration printed 60 garments including large and small sizes, black, white, lights and dark t-shirts, fleece, and totes – all in-line with no changeovers required. Demonstrations were attended by 100s of attendees.
 
Each garment/tote was had an affixed label that, when scanned, distributed printing instructions unique to that garment/tote to each of the 14 OvalJet stations. The labels and workflow functions were created and executed through Turbine, 240 Tech's proprietary Order Management System (OMS) and Warehouse Management System (WMS).
 
"We were excited to demonstrate Turbine's print workflow at a trade show," said Kevin Bunch, Principal Software Engineer of 240 Tech. "Demonstrating the print workflow was instrumental in showing the speed of the OvalJet and benefits of a unified OMS and WMS. The efficiency of a barcoded WMS enables our customers to realize the full potential of an enterprise high speed DTG printer that no other current system can offer. Over 10 million prints have moved through Turbine providing unmatched refinement in DTG print shop management."
Since it's launch, the OvalJet Gen 3 has had widespread adoption.  "Live demonstrations of the OvalJet DTG printer in our booth was a pivotal moment for 240 Tech," said Grinstead. "I believe PRINTING United was the opportunity for the entire industry to get a first-hand look at the fastest DTG printer, with the lowest ink and operating costs, and superior print quality." 
During the live demonstrations individuals visited the booth from all over the world. Demonstrations at the top of the hour each day allowed potential customers an opportunity to learn more about the various features of the OvalJet printer, including in-line neck tag printing, foundation, fiber matte down, digital white and color cabinet, and the different types of pallets. 
240 Tech staff opened the digital white and color cabinets to allow onlookers an opportunity to see the Ricoh Gen 5 print heads technology used to print the various designs printing in-line on different SKUs.
Between demonstrations, individuals were able to see the ease at which to change out pallets. Pallets displayed include standard, youth, and tote.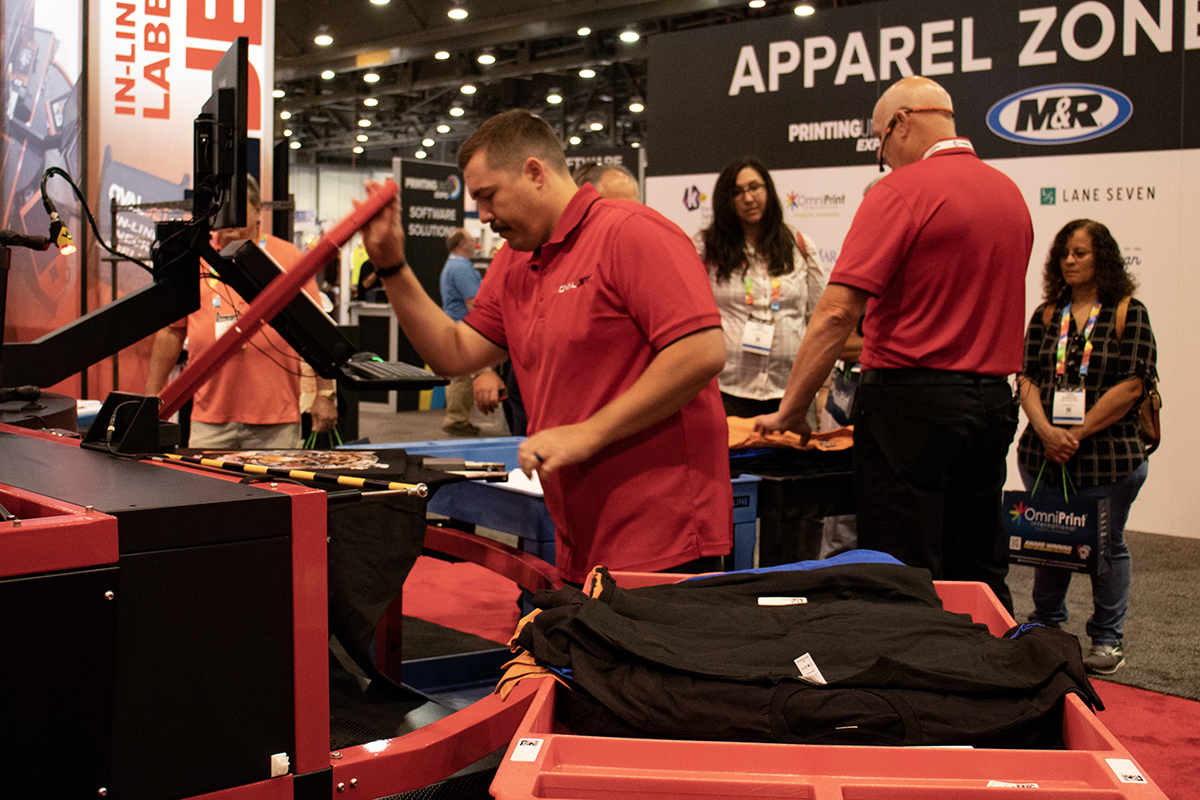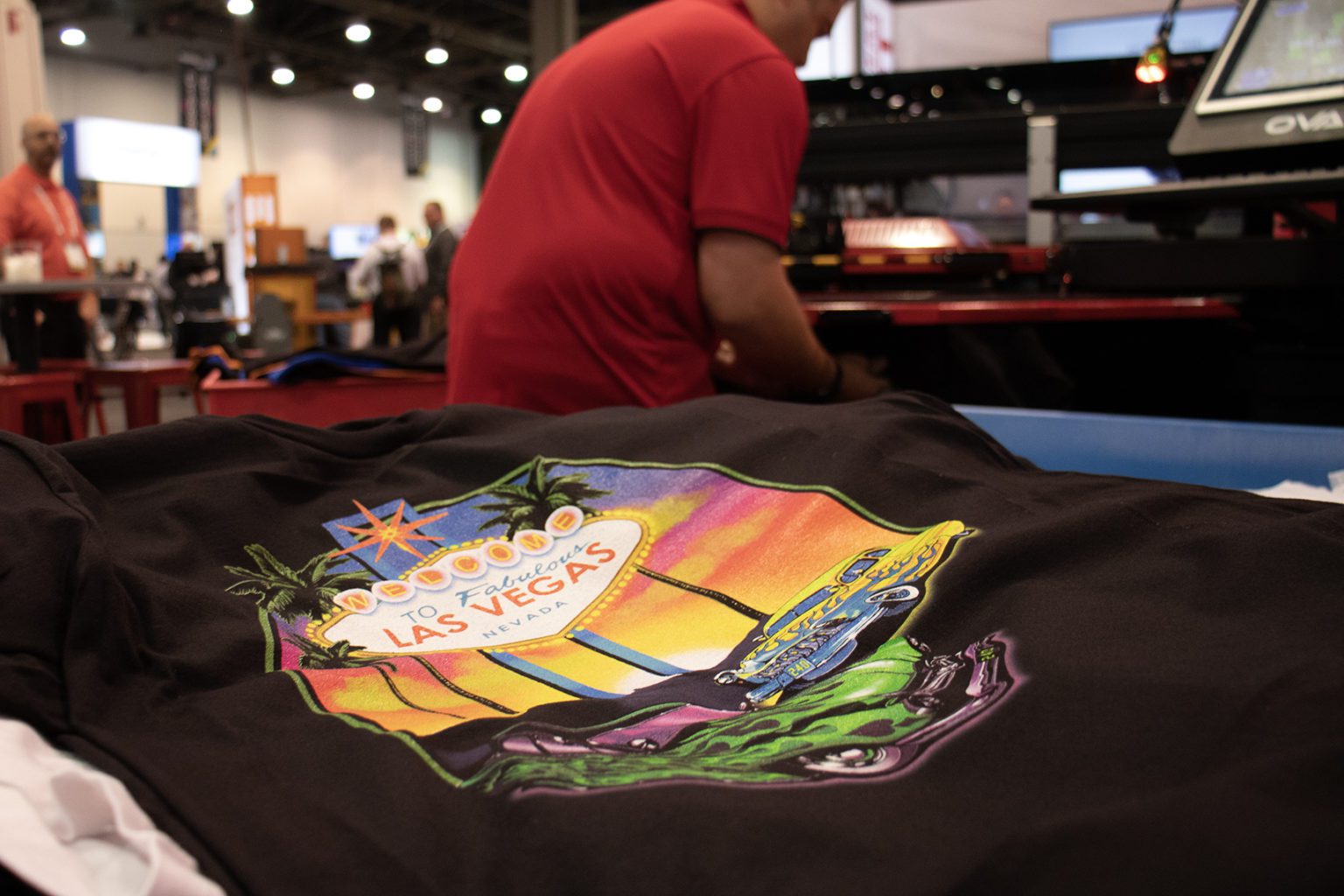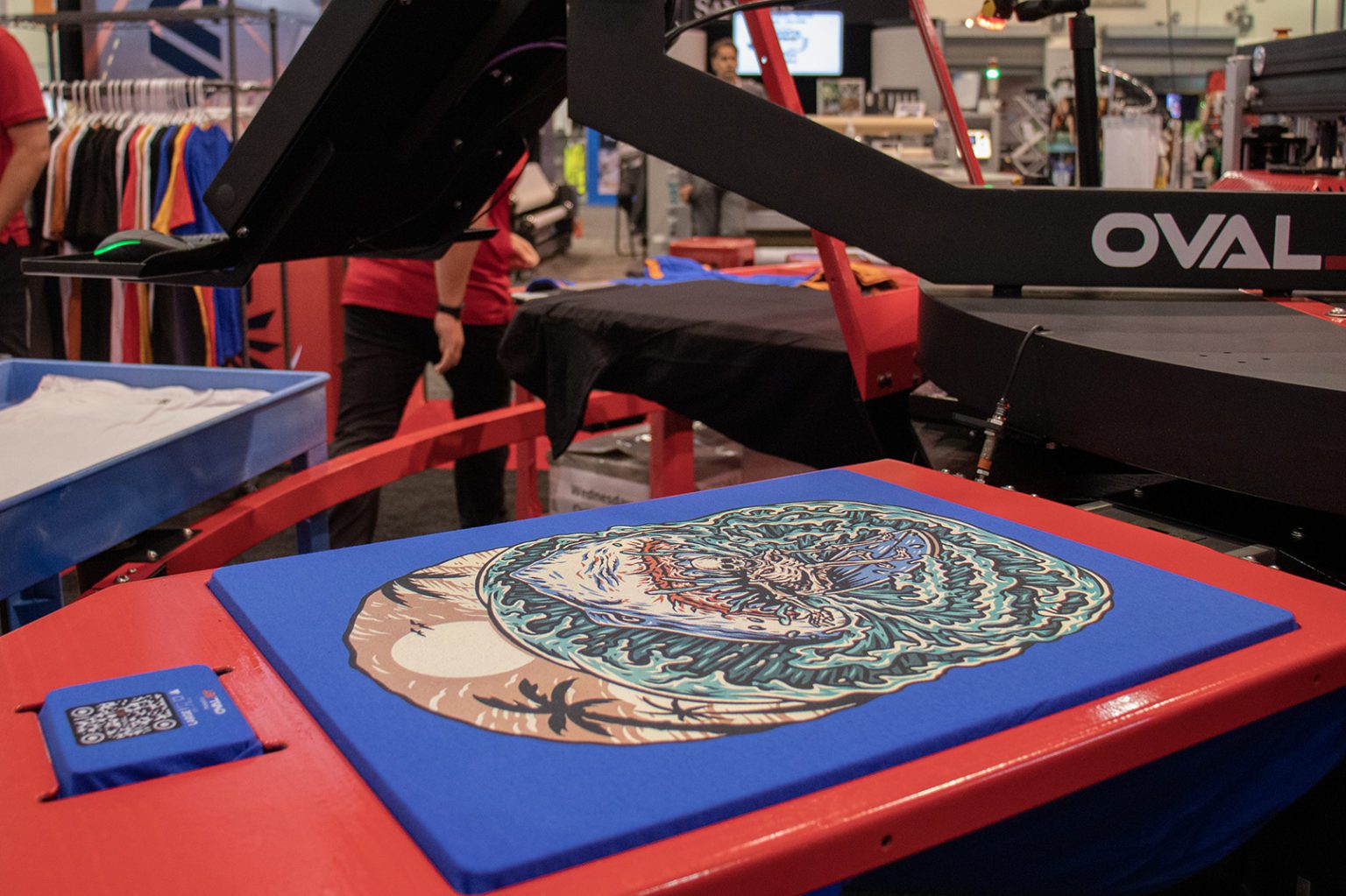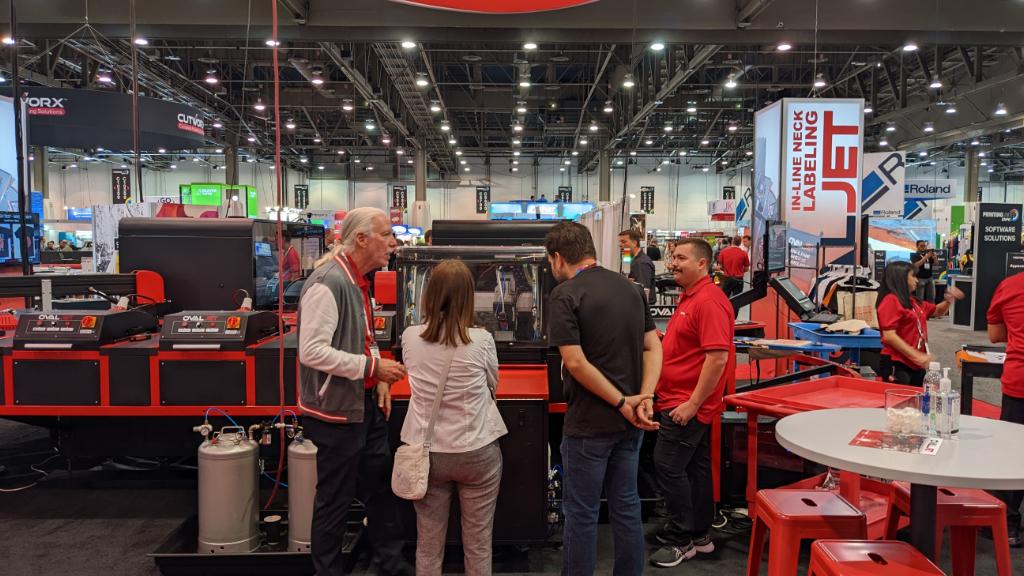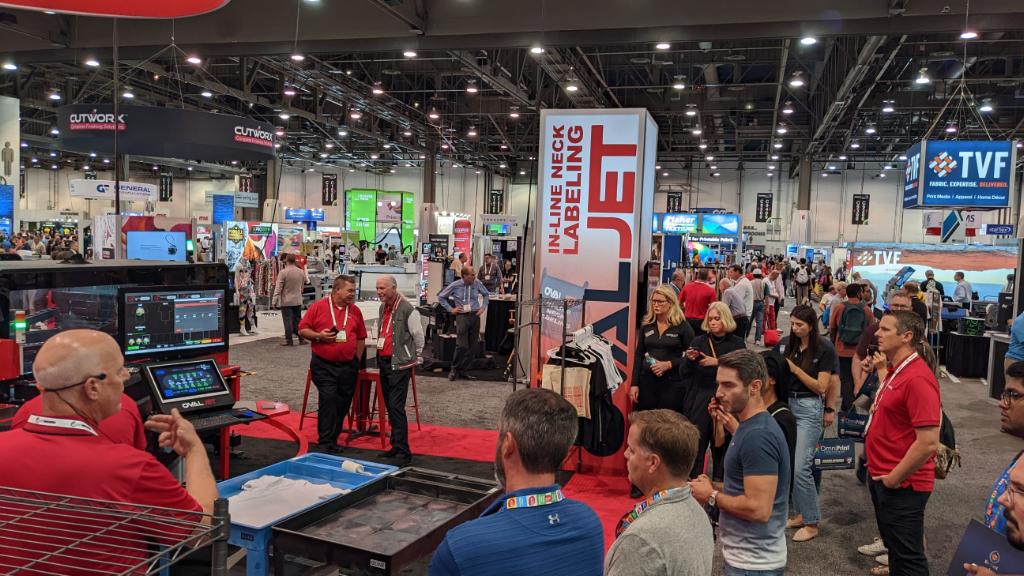 OvalJet's proprietary ink was reformulated in 2022 for superior print quality and wash durability. The new ink has outperformed all customer and industry DTG wash tests.
Current and washed t-shirt samples were on display in the booth to compare OvalJet prints with a top competitor. The comparison samples were washed over 50 times with the following wash and dry regimen:
Print side out
Wash at 27-degree Celsius (80.6F)
Rinse at 24.1-degree Celsius (75.4F)
Single Tide PODS®
Include five black canvas bags (for abrasion)
Dry for 60-minutes on permanent press
Repeat
Those interested in the scheduling an OvalJet demonstration or requesting print samples should reach out to the OvalJet Sales team at sales@240tech.com or 844.682.5538. Meet the OvalJet team January 20-22, 2023 at Impressions Expo in Long Beach, California.
The OvalJet high speed direct-to-garment printer is the embodiment of the best practices derived from screen-printing and high end direct-to-garment print shops. The revolutionary and proprietary closed loop technology moves each garment through a carousel of automated stations that prepare and print garments in one smooth motion. This allows a single operator to achieve full size, full color prints at unparalleled DTG speeds.